The new and innovative Logosol B751 bandsaw mill. With three power options to choose from:
13HP Petrol engine,
NEW! 18HP Petrol engine with electric start,
8kW 3-phase Electric motor.
Log diameter up to 751mm
Cant width (max cut width) 60mm
The LOGOSOL B751 BAND SAWMILL comes with preassembled sawhead and a detailed user manual. You get started quickly with your production. B751 is manufactured in Sweden. In its basic configuration it can saw 4.8 metres. It can manage large diameter logs, up to 75 cm in diameter. Logosol's own band sawmill is robust and has several well thought-out features that will facilitate when you are working at the sawing site. With fixed sawing measurements, you can easily produce the desired dimensions, quickly and accurately. You get a stable and extremely functional sawmill that is best in its class when it comes to sawing!
FINANCE and LAY-BUY available.
[vimeo 236901055 w=640 h=360]
Advantages of the B751
Easy-to-set-up sawmill with preassembled sawhead. Leveling feet are included.
Robust and solid. A stable design that gives you an amazing sawing result.
One log clamp and two log supports are included. They secure the log with great force without damaging the timber. They work just as well when you take the first cuts as when you cut the last thin board.
Quick and accurate setting of the saw cut. The sawhead is adjusted in fixed steps. One rotation of the crank always equals 1 inch. One step compensates for the kerf.
Last-Cut indicator on the scale helps you remember the previous cut and becomes a reference for the next cut.
Easy to keep the worksite clean. The wheels have fan blades, which both blow out the sawdust and keep it clean and tidy inside the sawhead. A great advantage when changing band blades and carrying out maintenance and service.
Exact blade guiding, which you only find on considerably bigger and more expensive sawmills.
The petrol-driven model has a first-class centrifugal clutch that facilitates the engine thrust while sawing.
Band wheel with integrated fans keep the inside of the mill clearer of sawdust, for smoother operation.
Build in blade tension indicator. No need to torque wrench to determine correct blade tension.
Solid log bed with cam clamp and log height adjustment.
Steel rollers on throat guard ensures easy no fuss setting of throad width and best guide raoller position.
Built in water level guage, adjustable multi-scale, emergency stop button.
Saw head lock with easy foot release when you start the next cut.
Saw head height adjusted with dual chain system, not cables and pulleys. Our system can be precicely adjsuted for accurate results, and keep accuracy with less fuss.
Steel rollers and lateral bearings for smooth gliding along log bed rails.
Saw head pre-assembled prior to delivery for fast set up of your new bandsaw mill. Just assemble bed rails and install engine.       
Capacity. Max. log diameter: 75.1cm. Max. cant width: 60cm. Effective sawing length (standard*): 4.8m *Further upgrade with extensions of 1.14m. Min. thickness of last board: 24mm.
Power options:
Petrol engines: Briggs+Statton XR2100 420cc 13hp engine. Built to be tough, reliable and efficient. Designed for frequent use in demanding work environments. High torque, OHV, Cast Iron Sleeve, Dual Ball Bearings, Electronic Ignition System, Float Feed Carburetor, Duel Element Air-Cleaner, Low Tone Muffler. See manufacturer's informaiton here.
Briggs+Statton 570cc 18hp Vanguard V-twin engine. Commercial engine, designed for constant applications. V-twin, OHV, Oil Cooler, Full Pressure Lubrication w/ Spin On Oil Filter, Magnetron Electronic Ignition, Mechanical Compression Release, Lower noise level from Poly-Core Blower Housing, High efficiency Head Design, Cast Iron Sleeve, Low Profile Duel Clean Air-Cleaner. See manufacturer's informaiton here.
Electric motor: Three-phase motor: 8kW.
Band blades. Blade length: 3843mm. Blade width: 33mm. Blade speed: 30m/s.
Band wheels. Band wheel diameter: 50cm. Maintenance-free wheel bearings. Integrated fan for cooling and sawdust.
Includes with the B751: Band blade, leveling feet, one log clamp, two log supports, water cooling and adjustable blade guide. Two years warranty!
Why buy a Logosol B751 over similar bandsaws?
Easy of use and increased functionality.
The B751 head units pre-assembled prior to delivery. All you need to do is assemble the track and fit the engine to the head unit. A relatively fast and easy process. Some other brand bandsaws come more or completely disassembled, requiring many days to put together before milling. Not with the Logosol B751.
Features other mills do not have, like:
Rapid indexed blade height crank. Easily factor in blade kerf for exact board thickness every time.
Last cut indicator makes life easier and less remembering to do.
Dual chain drive head lift, unlike cable lifts which stretch and require more maintenance, adjustment and replacement.
Logosol's own design band wheels with fan blades for improved dust removal from inside the wheel/blade cover keeping the internal running gear clean and efficient.
Exact blade guiding and smooth operating throat width adjustment mechanism usually seen on industrial bandsaw mills.
Innovative quick action cam log clamps, dogs, and adjustable height log supports included. Which can be used on any of the log bed bunks, not just two like many other mills.
Built in blade tensioning gauge. Not need to use a torque wrench to adjust or read blade tension.
Larger milling dimensions, 75cm log diameter and 60cm cant cutting (max cut width).
New features coming in 2018, including the electronic digital Smart SetWorks and automatic feeding. Upgrade your B751 with these new features for advanced milling capability, ease and efficiency. We do not know of this functionality being available for any other bandsaw mills of this category.
Although 1.1m extensions are available, the B751 comes with a log bed length that enables milling logs up to 4.8m in length out of the box, up to 2m longer long cutting capability than similar mills.
Quality design and manufacture.
Made in Sweden with quality steel, fabrication, components, and workmanship.
Logosol design style looks simplified and sleek, but not just for good looks alone. One principle behind this design style is to minimise componentry exposed to dust and the elements. For example, the aluminium water tank forms the strengthen cross support on the saw head. The chain lifting mechanism is built inside the vertical head beams for protection, but still easily accessible inspection, adjustment and oiling. Similarly, the wheels that run on the log bed track are covered and protected, but still accessible for fine adjustment. Overall a design philosophy that adds to the performance and longevity of the mill.
Clear and well-illustrated English user manual covering assembly, operation and maintenance.
With quality and safety in mind, the B751 has been manufactured in conformity with: Machinery Directive 2006/42/EG and the EMC Directive 2004/108/EU. And manufactured in conformity with the following harmonised standards: EN ISO 12100:2010, EN 60204-1:2006, EN 50370-1, -2. The delivered band sawmill corresponds to the machine that was subject to EC type-examination.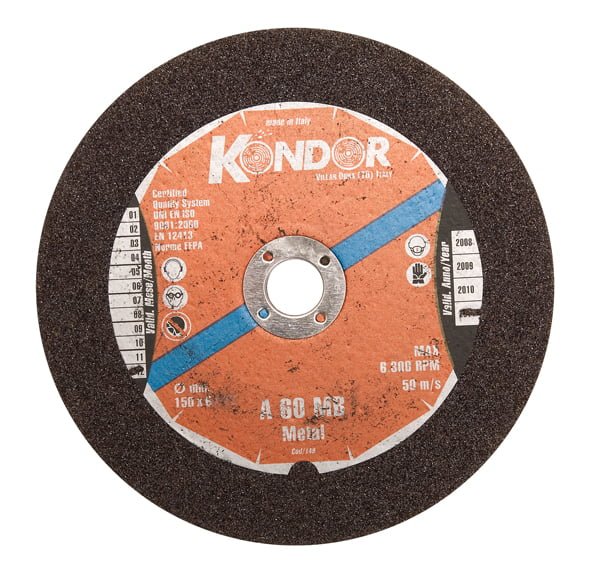 Grinding Disc, 6'' x 1/4'' x 5/8'' (150 x 6,0 x 16 mm)