Includes the following 5 tools:
TID/PDC 18V 2 Piece Impact Driver and 4 Speed Hammer Drill 5.2Ah Set in Systainer (576491)
AGC 18V 125mm Cordless Angle Grinder Basic in Systainer (575343)
OSC VECTURO 18V Starlock Cordless Oscillator in Systainer (576591)
TSC 55 18V 160mm Cordless Plunge Saw Basic in Systainer (201395)
2 x FS Guide Rail 1400mm (491498)
2 x FS Guide Rail Joiners (482107)
Guide Rail Bag for 1400mm Guide Rail (466357)
2 x 6.2 Ah Airstream Bluetooth Battery Packs (201797)
SCA 8 Rapid Battery Charger (200312)
Best of E-CUT Blade Starlock Plus Set (35222942050)
Cordless Festool products don't break – in no small party thanks to our brushless EC-TEC motors. These are incrediably resilient and withstand even the toughest site use. Should the battery suddenly stop working after all, you can count on our full repair – free of charge. Fast, thorough and (also completely unique for battery packs and chargers), free of charge for the first three years.
Impressive power that matches and even goes beyond that of a corded tool: Cordless Festool tools offer just as much power, performance and endurance as corded tools, including for heavy-duty applications. So you are perfectly equipped for any application and can focus on what is most important – your work.
Main Applications
Screwdriving work that protects your wrist, with no reverse torque
Screwdriving in wood, metal and plastic
Cutting the toughest materials (metal, stone and concrete materials)
Rip and cross cuts in materials up to 55mm thick
Sawing lining boards/shuttering to size
Drilling holes with pneumatic stop for dowels up to 18mm in concrete, stone and masonry
Built to last. Festool = quality.
When other options break down or fail, your Festool cordless tools will still be going strong. How? Festool's rigorous testing process, high design standards, and over 90 years' experience pioneering high performing tools. This means you get better results, longer uninterrupted working, and far lower tool-replacement costs.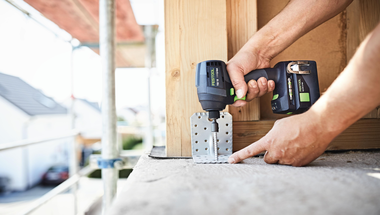 High-tech brushless motors
The ever-dependable EC-TEC brushless motor generates a huge amount of power while hardly consuming any energy.
Paired with smart electronics that automatically adjust and match tool speed to the working material, you get top-notch results while saving on battery juice.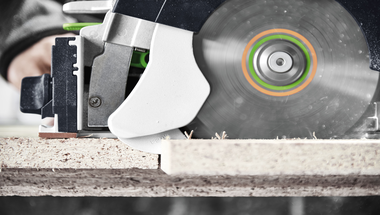 Engineered for the toughest jobs
Yes, the cordless tools are high quality, but that doesn't make them 'soft'. In fact, it's quite the opposite. The smarter the design and technology, the more robust the tool is. Festool demands each and every tool pass through extensive, bruising product testing before they're released to the market, you so you can be 100% sure they're up to the task and can cop a few knocks along the way.
Dust-free working
Dust extraction is at the core of the Festool System and the cordless range is no exception. Harness Bluetooth® batteries to connect cordless tools to an extractor, so the tool and extractor fire-up at exactly the same time. Having the extractor running briefly either side of your cutting/grinding means you're fully protected from harmful dust exposure.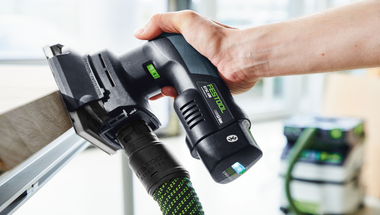 Bluetooth® convenience
Festool tools make work easy. The innovative Bluetooth® system makes it easier again!
Our Bluetooth® batteries offer the unique feature of 'following the tool', so you pair the battery and extractor once and then can move the battery between tools without needing to re-connect.
The system maximises results
Just like a burger is better with chips and a drink, Festool tools are better with accessories and a dust extractor. Our cordless tools are available with a massive range of accessories perfectly designed for specific jobs of yours. Throw an extractor into the mix that cleans as you work and protects your lungs, and you've got a fully optimised setup that lets you work faster, easier and better. And guess what?